Sakai Takayuki Grand Chef SP-Type III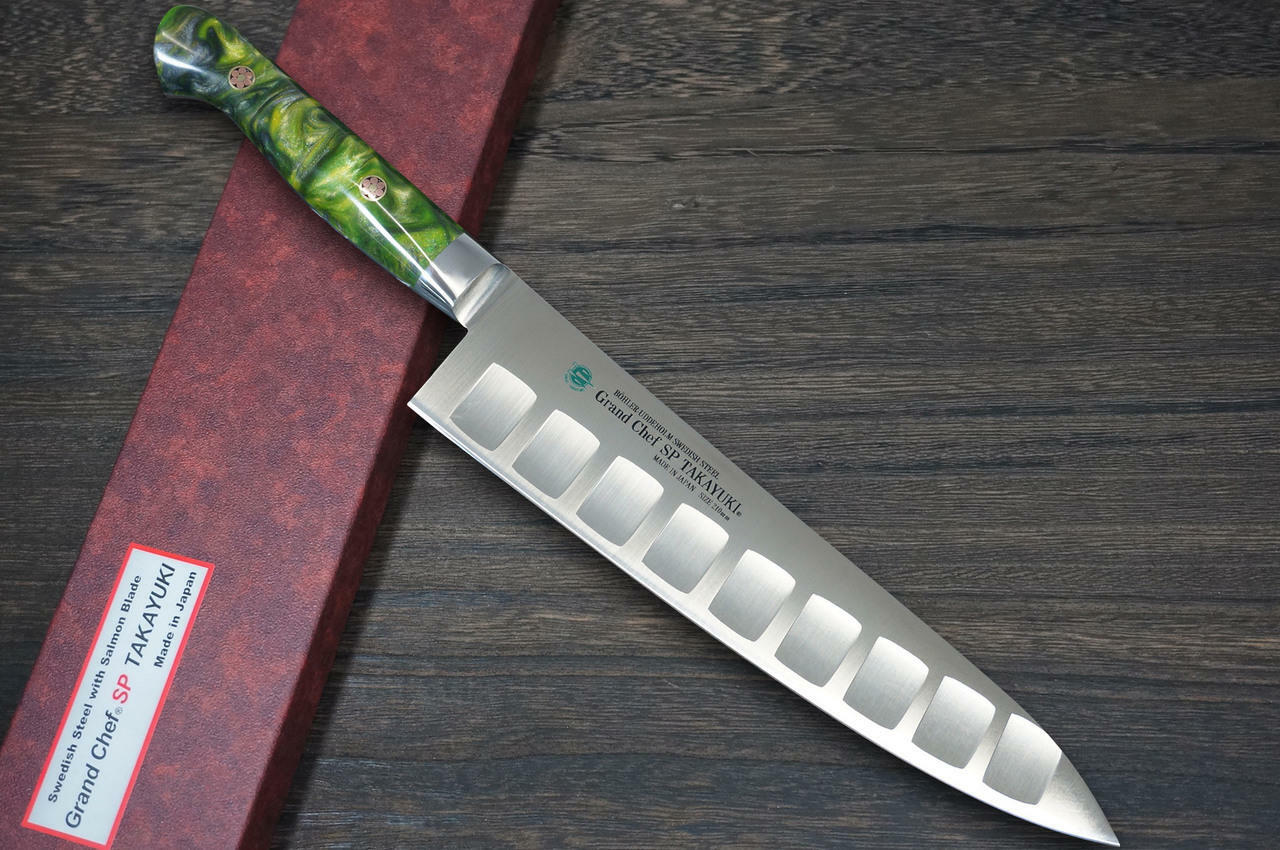 img by : https://www.hocho-knife.com/
Japanese food is always known for its delicacy, the mastery of the blades to perform swift slices and cuts, and its authentic flavors that are overwhelmingly delicious and unique to the taste buds. As most Japanese dishes require patience and subtleness in each every process – be it the selection of fine ingredients, the choice of seasonings, or the mastery of the blades, all lovers of the Japanese food aesthetics would swoon over authentic Omakase restaurants, vivid-colored sushi pieces, and unique signature menus from Master chefs.
As every process is essential to create original flavors of exoticness and delicacy only Japanese cuisine has, many Japanese chef hopefuls are willing to leave their homelands and travel to Japan and learn the basic foundations to become top-tier professionals. As the crafting of delicious sushi pieces and other Japanese dishes require a lot of time and practice to master the essential processes, the most important skill Master Chefs would take the longest to master is those related to the usage of the special Japanese knife.
The swift motions of cuts and chops Japanese blades perform are on a different level compared to those of other knives. Japanese knives are especially forged to provide clean cut slices, perfect proportioned chops of various ingredients, and cut both soft and hard ingredients. Japanese knives are mostly made out of steel – mostly carbon steel which provides high endurance, rust resistance, and extreme durability to enable long-term usage. Specifically for professionals, the selection of the perfect blades is highly crucial as it affects the performance and the efficiency of all cooking processes. The foundations of authentic Japanese food depend greatly on the mastery of knife skills, which explains why the majority of professionals and Japanese chefs rely upon quality knives.
Although there are a plenty of Japanese knives out there worth exploring, the brand Sakai Takayuki and its name spread throughout the globe for its fine quality materials and forging techniques.
Sakai Takayuki has been around for almost 600 years – a brand which had its origin at Sakai, the birthplace of Japanese cutlery and traditional Japanese knives. Among the Japanese brands, Sakai Takayuki is known for its unique forging techniques passed on from generations to generations. The brand's original designs also made various knife models worth collecting.
Among Sakai Takayuki's knives, Sakai Takayuki Grand Chef SP-Type III is a model specially made to perform three important functions for the very first time.
The knife's razor-sharp characteristic made it an efficient knife to use for professionals to perform their techniques. The blade is very light in weight, which provides comfort to users when it comes to gripping the knife itself. Sakai Takayuki Grand Chef SP-Type III is 100% made out of finest quality material by Bohler-Uddeholm with the almost no impurities. Forged in Japan, this blade is definitely a product of highest quality recommended to all kinds of Japanese food processes. The hardness of the blade is around 61-62 HRC; however, it is forged thin and slim to provide the extreme light weight feature. Sakai Takayuki Grand Chef SP-Type III comes along with beautiful handle colors, where the material is of stabilized hybrid resin with polished stainless bolsters. Easy to grip, the knife has a perfect balance which makes it simple to handle all kinds of techniques and skills.
Offering highest durability and extreme sharpness, be it the slim slices of salmon or chops of avocado cubes, Sakai Takayuki Grand Chef SP-Type III can ace it all. With special, unique designs, this Sakai Takayuki knife is also among the top knives worth having in possession.