History of ISEYA knives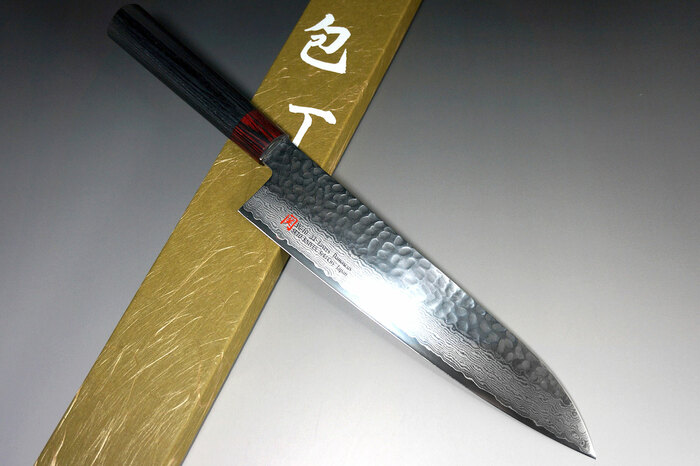 History of kitchen knives
Seto Cutlery Mfg. Co. Ltd. is a Japanese manufacturer of high-quality kitchen knives and tools. They are known for being the makers of the famous ISEYA knives. The company was founded in 1908 in Seki, a city located in Gifu Japan, where bladesmiths have been making swords, knives, and cutlery for over 800 years.
In fact, Seki's sword making history dates back to the Kamakura period of Japan (1185 – 1333), a period that saw the rise of the samurai. As battles raged across Japan, Seki was known across the country as a city that provided many samurai with high-quality weapons and armor. One trait that makes Seki such a hotspot for sword making is that the land has an abundance of iron and charcoal, metals that are needed forge the finest blades. While ancient sword making techniques have been passed on from generation to generation, many great advancements in modern knife making technologies have also been developed in Seki.
The main features of ISEYA knives are its durability, sharp edge, and excellent finish. The blades are hand-made and made with Damascus forged steel, which is known for its exceptional edge retention, sharp-edge, stain-resistance, and wavy, aesthetic patterning. The process and technique to make ISEYA knives was developed by Mr. Yoshinori Seto, who is a member of The Knifemakers Guild. ISEYA knives are produced in higher volumes as the knives are very versatile and used all over the world in restaurants, professional kitchens, and even homes.
ISEYA knives are divided into 3 different series, which will be explained below.
ISEYA I-Series 33-Layer VG-10 Damascus Hammered
These knives feature a unique "tsuchime" (hammered texture) pattern on the blade and are made of 33 layers of Damascus hammered steel with a VG-10 stainless steel core. They are popular knives for professional use or also great as gifts due to its beautiful design. The handle is made of a D-shape, black laminated wood with engraved bamboo grass. This series features 8 kinds of knives, including a vegetable knife, Paring knife, Petty knife, Yanagiha (sashimi) knife, Santoku knive, and two Gyuto knives. They're available in 210mm length.
ISEYA G-Series 33-Layer VG-10 Damascus
These knives are made of 33 layers of Nickel Damascus Stainless Steel with a high-carbon VG-10 core. The handle is made from Pakkawood, a wood/resin composite known for its durability, wear-resistance, and water-resistance when compared to real wood. These handles will last a lifetime. The G-Series features three different kinds of knives such as the Gyuto knife, Santoku knife, and Petty knife. They're available for purchase in a bundle or individually.
Kitchen Knife
The kitchen knives by ISEYA are tailored for less experienced knife users. They're easy to sharpen, have great corrosion-resistance, and the prices are very reasonable. The blade is made of molybdenum steel, and the handles are made of mahogany packer wood, black pakka wood, or black Micarta wood. These knives may also feature a bolster. The knives are versatile and great for cutting or peeling fruits and vegetables. There are sixteen different types of Kitchen Knives such as Petty, Gyuto, and Santoku to name a few.
ISEYA knife owners should carefully read and follow the following usage and care instructions to ensure the maximum lifespan of their knives:
Refrain from cutting, hitting, or chopping frozen products or bones. This will decrease the chances of the blades chipping or breaking.
Hand wash the knives with warm water and towel dry.
Use a sharpening stone to maintain the sharpness of the blade.
All three ISEYA knife series come in a wide range of models and styles to suit different needs and purposes. Pricing on the knives varies and depends on the model. ISEYA knives start at $60 USD, up to $500 USD for higher-end models. If you're looking for a versatile knife for home or commercial use, or maybe even a beautiful knife to give as a gift, ISEYA knives are a great choice.