Sakai Takayuki 45-Layer Damascus Mirrored Knife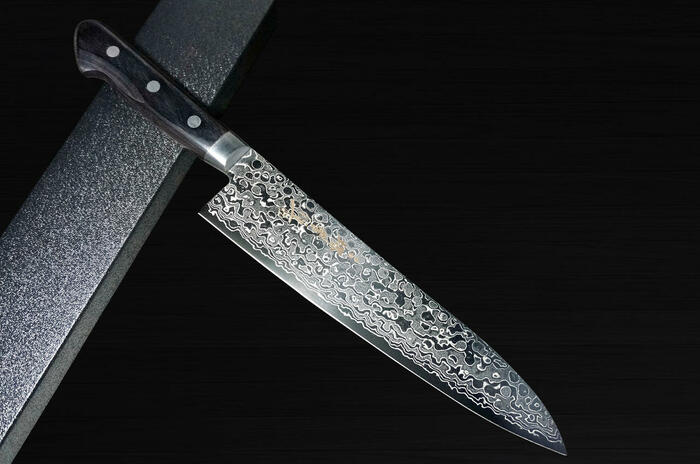 img by : hocho-knife.com
For centuries, Samurais and warriors have played a huge part in marking Japan's history. Through fought wars and all the challenges, the ancient Japanese ancestors have crafted and forged thousands and millions of swords and blades for varying uses, including knives. An archer needs an excellent pair of bows and arrows, likewise, a chef needs a good cooking companion, and that is a knife. In Japanese culinary, the most important factor that determines the beauty and satisfaction a crafted menu or a dish produces is how they are processed. The mastery of knife-using skills is highly significant and is very essential for all Japanese chefs. Although seasoning, flavoring, and the selection of fine ingredients may be the components to craft a final product, using a Japanese knife efficiently to practice all the special strokes and techniques further portray how much of a professional that chef is. Slicing, chopping, and cutting motions differ for each meat type or ingredient. Therefore, it can be assumed that without a great knife in the hands of a chef, there is also no guarantee to a successful dish.
History of Sakai Takayuki
Among the high-quality knives of Japan, Sakai Takayuki is known for its long history, dating back to over 600 years. It is the most well-known Japanese knife-producing brand in Sakai, Japan; where the company is home to highly skilled craftsmen and blacksmiths, working together to forge beautiful and exceptionally efficient Japanese knives for multi-purpose use. Sakai Takayuki mainly produces single-beveled blades (their specialty), but they also offer a wide array of knives that differ in shapes and sizes. Among the famous blacksmiths in Japan, Sakai Takayuki works with Itsuo Doi, where the company has built him a factory and he would reflect his passion and love for his crafts, forging the best knives for professionals, chefs, and even home users.
Features of Sakai Takayuki 45-Layer Damascus Mirrored Knife
Sakai Takayuki 45-Layer Damascus Mirrored Knife showcases its stunning mirrored-finished Damascus steel body, along with its sharp edges. The handle is made out of Plywood with metal Tsuba (stainless steel), and is a Santoku knife. The core of the Sakai Takayuki 45-Layer Damascus Mirrored Knife is AUS10 Alloy, and is sharpened prior to sales in order to ensure extreme sharpness out of the box. This knife has sharp edges, excellent edge retention, and a supremely light balancing center that makes it simple for users to practice all the essential slicing and cutting motions. The knife comes in a variety of lengths to choose from : 80 mm, 135 mm, 160 mm, 170 mm, 180 mm, and 210 mm. The weight of the knife differs along with the differences in lengths, weighing from : 65 grams up to 150 grams. Depending on the usage, it is recommended to consult a guru or read more about what application or cutting/slicing techniques will require which kinds of Japanese knives. However, as Sakai Takayuki knives and its models are often multi-purpose knives for variations of uses, the Sakai Takayuki 45-Layer Damascus Mirrored is totally recommended to perform the basics like sashimi-making or for Nigiri menus.
Many worldwide reviews have confirmed the 'greatness' of Sakai Takayuki 45-Layer Damascus Mirrored Knife as Damascus is known to be among the most suitable materials forged in a Japanese knife. Users have commented that the Sakai Takayuki 45-Layer Damascus Mirrored Knife offers a perfect practical function and is a delight to use, specifically for slicing and making sashimi. The knives are polished and are extremely sharp out of the box; very new and shiny, and even perfect for display. For collectors, this knife is also loved for its inspirational beauty which turns food preparation and the crafting of delicate Japanese dishes sacred in a very memorable way.