Sakai Takayuki Grand Chef Japanese Chef's Wave Knife 300mm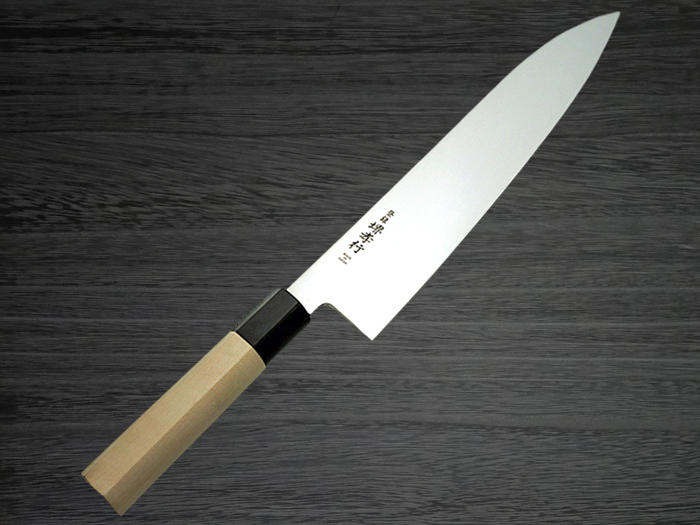 img by : https://www.hocho-knife.com/
Japanese food now leads the culinary industry with its creative approach to the presentation of delicacies laid on elegant, Zen-styled plates. Through intricate processes of food preparation and wise selection of ingredients coming from various destinations, Japanese cuisine is most-loved and appreciated for the beautiful, mesmerizing aesthetics that are not only social media-friendly, but are also appealing to the eyes of gourmets and cordon bleus. Hungry for more, Japanese food lovers and fans from various parts of the globe would always crave for the best authentic sushi and sashimi dishes knowing that these delicacies would never disappoint them if served just the right way, made with the best ingredients, and hand-crafted by culinary professionals who are dedicated to craft their ideals. Under this magical success and the beautiful exteriors of Japanese delicacies, diners and gourmets are well aware, though, of the rocky roads Japanese food aspiring chefs would have to take in order to master all the techniques required to hand-craft and wisely select fine-quality ingredients each time.
As diners are aware of the beautiful aesthetics and what's behind all the intricacy, many are awe-struck and are extremely amazed by the mastery of the blades Japanese food chefs are required to have when it comes to the making of delicate sushi pieces or sashimi slices. As different ingredients will require varying methods and techniques to result in distinct, yet unique flavors, a different approach, method, technique, and equipment will be used for certain dishes. Thus, Japanese dishes like sashimi and sushi are probably the most challenging dishes to make despite their innocence and subtleness portrayed.
Behind the complications surrounding food preparation, a special cutlery is used by every single chef to successfully craft wonderful Japanese delicacies. That cutlery is no other than a 'Japanese knife' or also referred to as a 'Wa-bocho'. A Japanese knife differs from other general kitchen knives for its premium-quality hard steel, extreme sharpness, blade durability, unique aesthetics, and narrow blade body. The strongest rival of a normal multi-tasking kitchen knife, a Japanese knife is forged with supreme-quality hard steel like those of Aoko blue steel or Damascus steel with high values of Rockwell hardness, to ensure all traditional knife utilizing techniques can be done simply. The materials used in the making of knife blade bodies and handles are as well hand-picked through meticulous material selection process to enable knife users to experience just the best of slicing, filleting, boning, and cutting. As the latter skills and techniques are highly important to all Japanese food chefs, a kitchen knife can never beat all the goodies a Japanese knife owns – never.
Among the top-tier Japanese knife brands, Sakai Takayuki and its long, cultivated history of knife-forging dates back centuries ago, still holding onto its traditions and golden roots. Sakai Takayuki's renowned knife models and series are all forged out of extremely hard steels and are made with top-tier quality materials by highly-skilled craftsmen and blacksmiths who are dedicated and passionate to deliver their ideals through bladework. With this, knife users from all parts of the world are always in the search for more Sakai Takayuki knives to add up to their list of best knives.
Sakai Takayuki Grand Chef Japanese Chef's Wave Knife 300mm is one unique knife model by Sakai Takayuki which is forged with an intention to cut through soft ingredients like bread and sushi rolls. This special wave blade knife is forged with a top-class high carbon stainless steel by Bohler-Uddeholm with a Rockwell hardness of 61 -62, making it an efficient blade to cut through soft ingredients. The blade is also processed to be light in weight for the ease of grip and handling.