Iseya G-series 33 Layer VG-10 Damascus Japanese Chef's Santoku Knife 180mm and Sakai Takayuki 33-Layer VG10 Damascus Hammered Japanese Chef's Santoku Knife 180mm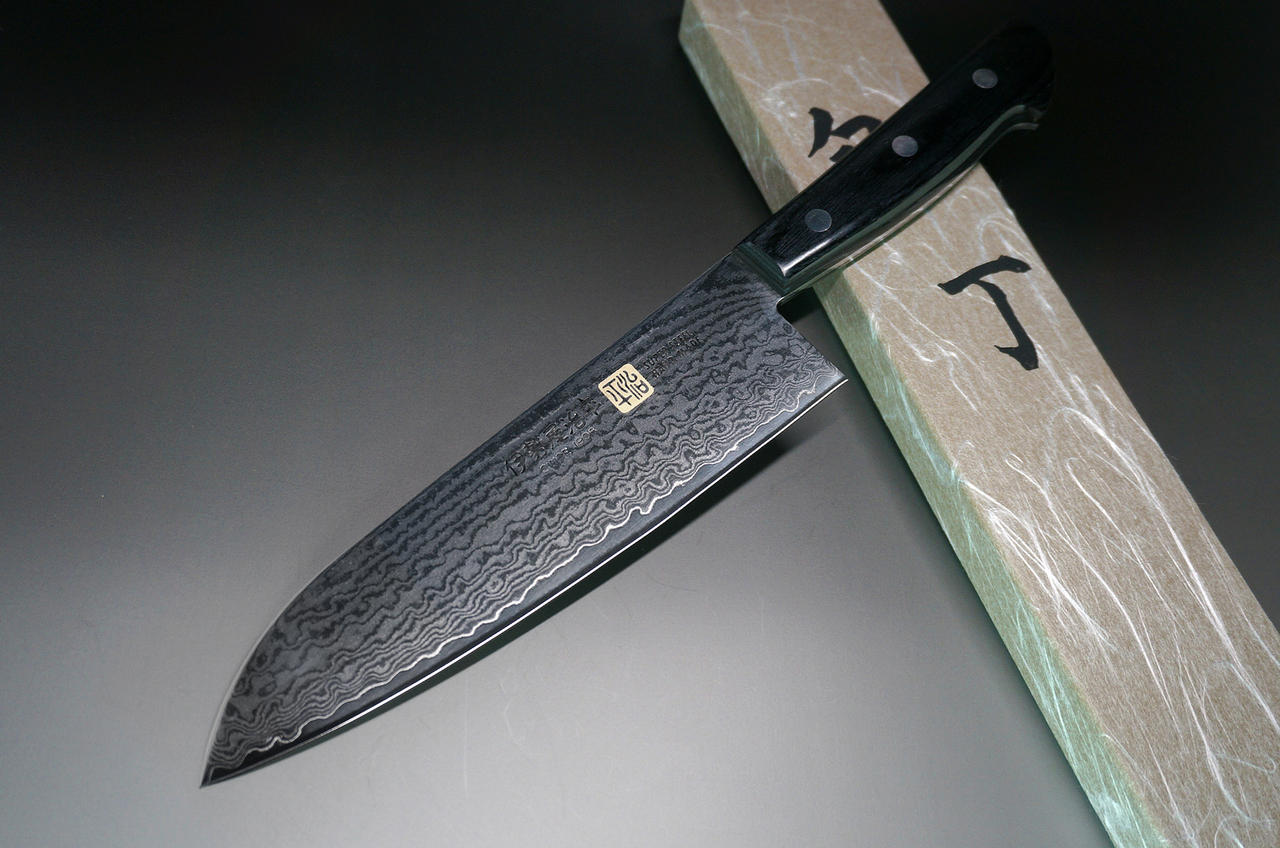 img by : hocho-knife.com
Japanese food rules the food industry with its unique ingredient selection and original-flavored seasonings for ages. In every corner of the world, Japanese food is present, as the art of making delicate slices of sashimi and hand-formed pieces of sushi has become the leading trends of food preparation.
The aesthetics of Japanese dishes – described as creative, vivid, and awe-struck beautiful, have won the hearts of diners worldwide. A few sprinkles of Japanese ivory sesame on hot, cooked Japanese rice and the Wagame seaweed strips on Takoyaki balls are only among the mouth-watering Japanese dishes gourmets are hungry over.
As Japanese delicacies like Saba sashimi or Fatty Tuna sushi require the special techniques and skills to slice, cut, chop, mince, and dice various ingredients essential to certain menus, it is important for Japanese food chefs to know how to use a Japanese knife.
Not only Japanese dishes are described as intricate and complicated – utilizing a Japanese knife to perform numerous, challenging tasks is perhaps, even more of a complication. A Japanese knife is different from that of a general kitchen knife – its blade body is forged out of strong, hard steels with HRC of 60-62, it is durable, rust-resistant, and comes with premium-quality handle material essential to perform various tasks in the kitchen. Japanese knives are known to cut through poultry, seafood, and meat very well, but there are vegetable knives too.
As there are many knife types forged out of distinct steel types for special uses, Santoku stands strong as one of the best-selling knives among the common knife types everyone uses to make Japanese dishes for the multi-tasking features, the comfortable knife design and grip, as well as its popularity being the Japanese version of a chef's knife.
A Santoku knife is also known as a 'chef's knife' as it has the capability to perform various tasks, ranging from cutting vegetables to slicing raw fish. However, a Santoku knife forged by different companies will have different blade bodies, cores, handle materials, and may differ a little in function.
A suitable Santoku knife is to be chosen according to its functions – it is best to look for a Santoku knife which best meets your needs, although it may be a multi-function knife type, the differences in designs and composition can alter the results.
Among the top-selling Santoku knife models, Iseya G-series 33 Layer VG-10 Damascus Japanese Chef's Santoku knife 180mm and Sakai Takayuki 33-Layer VG10 Damascus Hammered Japanese Chef's Santoku knife 180mm are the two models worth having in possession.
The first knife, Iseya G-series 33 Layer VG-10 Damascus Japanese Chef's Santoku knife 180mm is one forged out of VG10 high carbon stainless steel, featuring 33-layers of Damascus-patterned blades.
This provides the blade a long-lasting edge, rust-resistance, longevity, durability, and extreme sharpness. With its handle forged out of Black Packer wood and blade steel hardness of 60-61 HRC, this is indeed among the best-selling Santoku knives out there.
Sakai Takayuki's Santoku knives are also known for their sharpness, durability, and high performance. Its 33-Layer VG10 Damascus Hammered Japanese Chef's Santoku knife 180mm is crafted out of the 33-layers VG10 Damascus steel, an upgraded version of the previous 17-layered ones.
Equipped with extremely sharp edges and high HRC values, this knife provides an excellent light center balanced feel when gripped and utilized. This model from Sakai Takayuki guarantees users with enhanced, high blade performance, along with its Mahogany wood handle which proves to users its water-resistant feature and beautiful designs worth collecting.